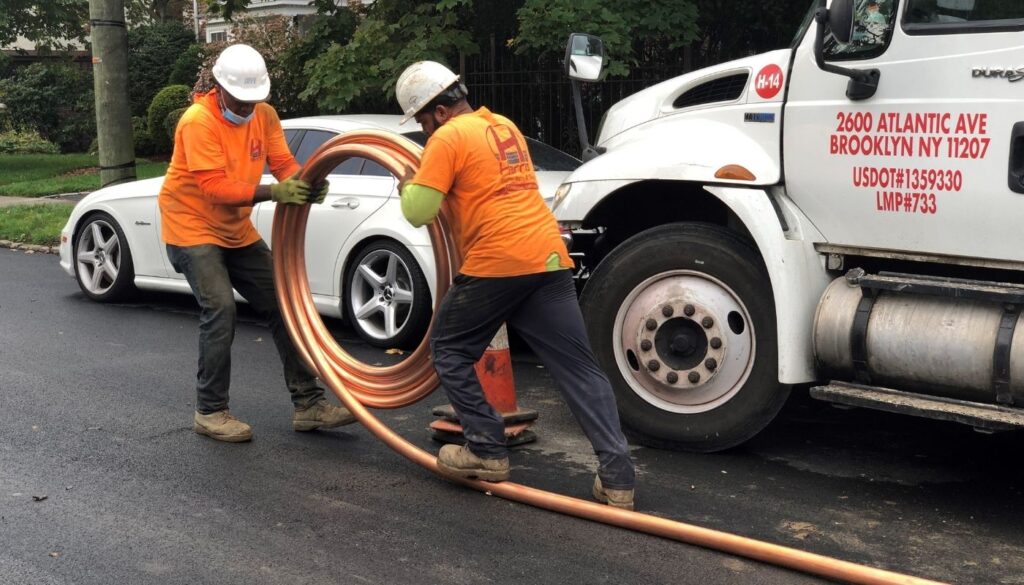 Copper piping is a common sight here at Harris Water Main and Sewer. In fact, it's one of only two types of piping we trust for new installations here in New York City. While pipes have had many different material types back in the day, each had its own downsides that often created more problems than they were worth. Nowadays, we know the benefits of copper service line piping, and we want you to know them as well, so you know exactly why we choose this material over others.
Copper Pipes Are Durable
Arguably the most useful benefit of copper service line piping is not having to repair them constantly because of their durability. Copper pipes have long lifespans and, even in the worst conditions possible, can still last upwards of several decades. They can also handle high-pressure situations, up to around 1,000 PSI. For New York City specifically, copper pipes are useful for their ability to handle changes in temperature throughout the winter's bitter cold or summer's brutal heat.
Copper Pipes Are Recyclable
Environmental sustainability is a huge issue for many plumbing contractors these days. Some pipe materials, such as PVC or PEX, can be very harmful to the environment and can't always be reused or recycled. Copper service line piping, on the other hand, creates fewer damaging emissions overall, and we can recycle the material once it reaches the end of its use as piping.
Copper Pipes Are Easy To Install
Copper is a relatively lightweight metal when you compare it to some of the other alternatives. This lightweight attribute makes installing copper piping much simpler than using a pipe made of a very heavy metal. We can also use fewer support structures when creating new service lines made out of copper pipes.
Copper Pipes Don't Contaminate Water
We all know how some metals used in older piping can affect the quality of the water that goes through them, which is why copper piping has become more popular as a material. Copper piping won't release any harmful chemicals into the water that passes through it, even after many years of heavy use. This peace of mind is hugely important to anyone who relies on these pipes to get them the water they need.
When it comes to new installations and water main replacement, Harris Water Main and Sewer Contractors knows how to handle the toughest jobs. We have the tools and experience to improve and expand the piping network all over New York City.