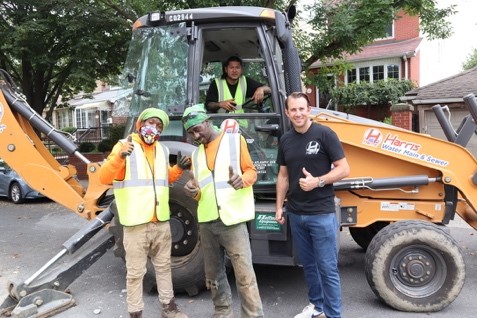 There is a decent amount of confusion for those not in the plumbing industry when they find out that a plumber and a plumbing contractor aren't the same job and don't share the same responsibilities. The confusion stems from some people using the terms plumber and plumbing contractor interchangeably. This is a common mistake that's frustrating to find out when you need to find someone to help you with a plumbing issue. Both jobs are vital to the well-being of people and communities, but it's good to learn the difference in case you ever need one or the other.
Here at Harris Water Main and Sewer, we exclusively perform work that a plumbing contractor is qualified to do. While we employ many licensed plumbers, we are primarily a plumbing contractor for New York City. To get a better idea about how these two positions work compared to one another, we'll go over the difference between plumbers and plumbing contractors in this article. We hope to clear up any confusion about which title can perform which jobs by the end of this. If you have any more questions about our work in NYC, don't hesitate to give us a call.
Why Is It Important To Know the Difference?
Many people might wonder why you need to know the difference between plumbers and plumbing contractors. To the everyday person, plumbing is just plumbing. It's something that we all interact with every day, but not many people give it a second thought. If the sink turns on when they turn the knob and the toilet flushes when they need it to, that's all they need to know. However, so much more work goes into making those plumbing fixtures work as they do. It requires the work of both plumbers and plumbing contractors to make our water and sewer systems work as efficiently as they do.
More than that, it's important to know the difference when there's work required. While plumbing contractors understand the work that plumbers do, considering they are licensed plumbers themselves, you wouldn't call one to fix a leaky pipe or unclog a drain.
Now that we better understand the importance of knowing the difference, we'll dive a little deeper into how these two positions differ and when you should call one over the other.
The Major Differences Between Plumbers and Plumbing Contractors
Broken down to the basics of what we do, you could describe the difference between plumbers and plumbing contractors as seeing the picture as a whole versus zooming in to find the details of the picture. Plumbing contractors focus more on the big picture by doing work, such as installing pipelines and sewer systems that connect to many homes and buildings in a greater area. Plumbers, on the other hand, zoom further in for their work. Plumbers are the hardworking individuals that come over to your house or building to diagnose and repair problems with your plumbing system. Most plumbers who are also qualified plumbing contractors own plumbing contracting companies. Not every plumber is a plumbing contractor, but every plumbing contractor should have a plumbing license before working as a contractor.
What You Need a Plumbing Contractor For
Plumbing contractors usually take on larger, more complicated tasks that require much more time to finish than a plumbing fix. Here are a few examples of the work plumbing contractors do:
Some of the largest jobs we take on are new water main installations for both residential and commercial properties.
Repairing broken water mains is also a huge part of what we do, ensuring that NYC's residents always have the water they need and keeping them safe in the process.
We can replace entire sections of main water pipes damaged beyond repair.
Main sewer line replacement and repair may not sound like the most pleasant job, but you need a plumbing contractor you can trust to take on this important job.
New fire hydrant installations require the precise following of rules and regulations set by the DEP. Only a plumbing contractor can handle a job like this.
We also install and repair fire sprinkler systems in large properties to ensure we follow all safety measures.
You can see that all these jobs require a deep understanding of the ins and outs of the greater plumbing system that the city of New York relies on daily.
What You Need a Plumber For
Plumbers are who most people need for smaller, everyday plumbing repairs and replacements. For many homeowners, a plumbing emergency consists of a frozen or burst pipe, a backed-up drain, or an overflowing toilet. Jobs like these can seem like disasters to a homeowner, but we consider them minor issues in the larger plumbing world.
Becoming a Plumber or Plumbing Contractor
As we mentioned before, you can't work as a plumbing contractor if you aren't a licensed plumber, which is where most contractors start in the plumbing world. Both plumbers and plumbing contractors begin as apprentices who need both formal education and on-the-job training to become journeyman plumbers. Journeyman plumbers are authorized to work without supervision and must take an additional test and meet their state's requirements before becoming master plumbers. The difference between the two positions comes in at this point. To become a plumbing contractor, you must also further qualify for a contractor's license. Getting this license involves different requirements based on the state, but many require further education in business administration, law, and construction rules and regulations.
Knowing more about these differences should come in handy when you need plumbing assistance at different levels. Harris Water Main and Sewer is your go-to name for reliable sewer and water line repair anywhere in New York City. We've taken care of this city's plumbing needs for over 100 years, serving NYC's five boroughs as plumbing contractors, and we intend to keep going for a long time coming. We take great pride in being a company you can trust to get the job right. Call us today for all your plumbing contracting needs.