***Please watch the above video prior to reviewing the content below ***
Recently in NYC a homeowner was required to perform a video inspection on her sewer line after experiencing sewage backing up in her basement. She was told by one plumber that the sewer line had a minor clog and could be cleared, $400 and one day later, she was back to square one.
After reviewing the sewer video inspection, it was clear that her existing clay sewer line must be replaced.  This includes new 6″ cast iron pipe, from the house, to the city sewer "spur connection" in the roadway.
After the licensed plumber obtains all required DEP and DOT permits, the excavation process begins with a backhoe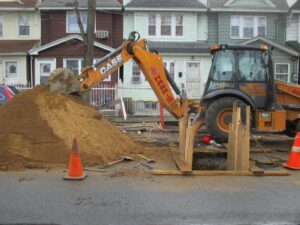 The excavation process
The entire process of installing the new sewer line will take a total of two days. The new cast iron pipe is now installed on the property.
Installing pipe on property
The final stage is installing the new sewer pipe from the property, to the city spur connection under the roadway.
New sewer pipe to spur