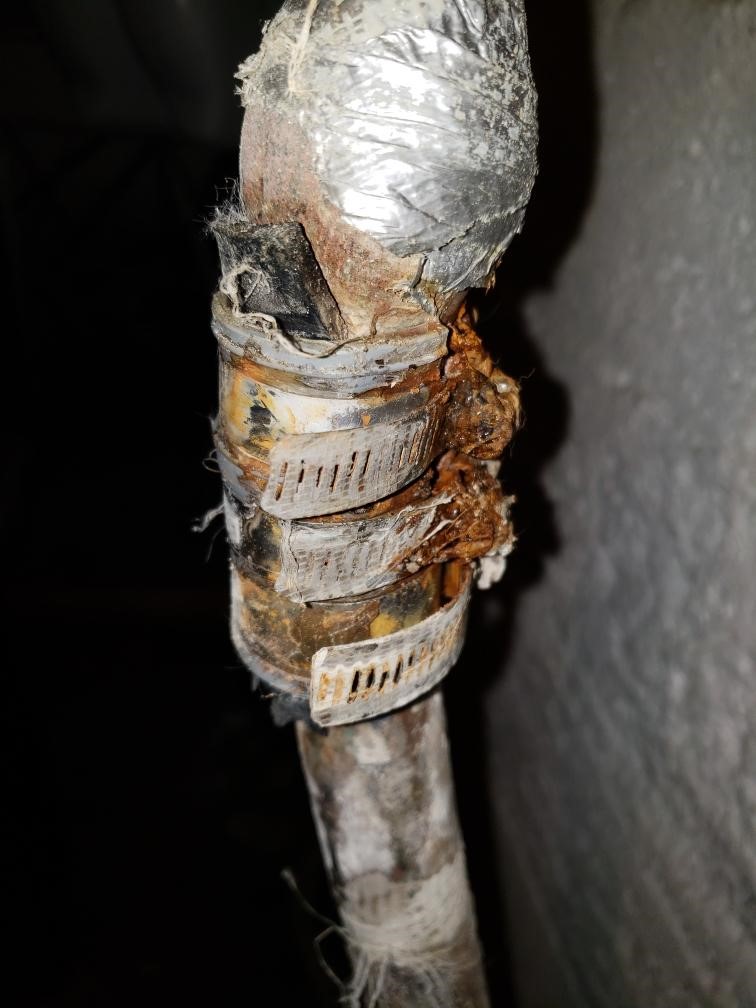 New York City is justifiably renowned for the quality of the municipal water supply. Operating the largest municipal water system in the United States requires enormous resources and expertise. Human scientists and robot monitors tested New York's water over 2.2 million times as of January 2018, according to the New York Times. But factors beyond any city's control can result in contaminated water entering homes. It's important to recognize signs your water may be contaminated so you can take steps to fix the problem and minimize harm.
Beyond the Tap
Your municipal water main brings water to all the homes along your street. Each individual home or apartment building has its own water service pipe that attaches to the municipal supply. In New York, that point of attachment is called the tap.
The city's responsibility for the pipes and the quality of the water in them ends where the residential connection or tap begins. At that point, the maintenance and repair of pipes and the quality of the water within them become the purview of the property owner.
As in other East Coast cities, New York has a great many older buildings, and beneath those buildings lurk older pipes. The city's modern water supply system has its origins in 1842, when a dam on the Croton River created the Westchester Reservoir. Since then the system has expanded, with water supplied from lakes and reservoirs, some as far as 125 miles away. Water from these sources flows through aqueducts and tunnels to reach the city. In the early 1900s, the city expanded the Croton system to include water sourced from the Catskills and Delaware systems. The city spends billions to maintain the municipal mains that carry this water under New York's streets to residential areas.
Beyond the residential tap, however, old pipes made of clay, lead, or galvanized material can create hazards, contaminating the water with heavy metals. Older pipes can break and interrupt the water supply, causing water to saturate the soil, bubble up from under sidewalks, and create a sodden mess in yards and streets. Newer pipes of cast iron can still corrode and contaminate water.
Detecting contamination requires sensory observation or even lab testing; some contaminants are colorless and odorless, but others will cause water to develop strange odors or tastes or to become visibly discolored or cloudy. Subtler signs include an increase in water "hardness," meaning there is a higher concentration of minerals in the water, typically calcium and magnesium. These minerals can leave a whitish residue on fixtures, cause bathtub rings, and make detergents and soaps less effective. While hard water isn't necessarily contaminated water, an increase in signs of hard water may indicate additional metal contaminants, like aluminum or lead. The following are some signs your water may be contaminated, based on how the water looks, smells, or tastes.
Brown, Yellow, Blue, Green, or Cloudy Water
New York's Department of Environmental Protection maintains a helpful FAQ page addressing questions about city water. The DEP explains that brown water should always be reported. This kind of discoloration can indicate corrosion in the water supply pipes delivering water from the city tap to the residence, or it may indicate rusty pipes inside the building or its water heater.
A sudden change in water color is another matter. Construction or repair requiring water shutoffs and sudden changes in pressure can agitate sediment in the pipes, causing brown water. The same is true if fire hydrants were recently used. The city may flush hydrants to help correct the problem.
While some discoloration is benign and temporary, other types are more sinister. Yellow water may contain chromium 6, a cancer-causing chemical. It may indicate the presence of an excess of other metals like copper, manganese, or lead. Orange water may mean rusty, corroded pipes. Corroded pipes are more susceptible to breakage.
Blue or green water could indicate an inordinately high level of copper. While copper pipes are commonly used inside buildings and a small amount isn't harmful, high levels of copper can cause liver and kidney problems and contribute to anemia.
Contaminants can cause cloudy water. Although it may not look badly discolored, water can look milky. The milkiness could simply be caused by air bubbles in the water. That type of cloudiness should clear quickly after the water comes out of your faucet. But drinking water should be clear. If your water remains milky or discolored, don't drink it and call your city water department for advice.
Don't drink water that has visible sediment, or that leaves sediment in your sink or tub. If running your water for a few minutes doesn't clear the sediment, there may be more going on than just a temporary disturbance that has jostled sediment around inside the pipe.
Smell
Contaminated water often smells bad. A common complaint is chlorine smell. Municipalities use chlorine to purify water and kill off harmful bacteria and other pathogens. But sometimes the chlorine level can fluctuate, resulting in a bad smell. Warm weather can increase the smell. Check with your city water department for recommendations. Filters can help, and sometimes something as simple as letting a pitcher of water sit in the fridge overnight or pouring water from one container to another can get the chlorine smell to dissipate.
A rotten egg smell indicates an excess of sulfur. Many water sources contain this naturally occurring mineral, but when it converts to hydrogen sulfide and reacts with bacteria, it can cause gastrointestinal distress or dehydration. Filters can help mitigate sulfur in your water, but bad-smelling water is unpleasant. Have the water tested by a professional lab to ensure that your water doesn't contain unacceptable levels of minerals that cause odors.
Fishy-smelling water might indicate the presence of barium or cadmium, chemicals that can contaminate water supplies because of drilling or industrial waste. Municipalities are required to issue water-quality reports each year. Read yours carefully, and if you have any concerns, contact your water utility or a professional testing lab for testing or more information.
Odd Taste
A metallic or salty taste can indicate the presence of iron, zinc, copper, manganese, or lead in the water. Corroded pipes can release these metals into the water supply. Often when homeowners notice puddles in their yard and contact a licensed plumber to investigate, the contractor discovers a broken water service pipe; upon the old pipe's excavation, the plumber discovers that it is made of clay or lead. In New York, it is illegal to repair a lead water service pipe, and sometimes broken pipes are beyond repair anyway and will have to be replaced from the tap to the foundation of the home. Water main pipe installation is a specialized service, requiring experience and licensure for underground work.
If you notice any of the above signs your water may be contaminated, contact the DEP in New York City or your local water supply utility if you live elsewhere. Attending to the issue sooner rather than later can save money in repairs and reduce health hazards.