Recently in Brooklyn a homeowner was alarmed after becoming aware of a terrible odor coming from their basement apartment. After inspecting around the basement they concluded that the odor was from their sewer trap. This was a surprise as they had a sewer pipe repair completed a few years prior and now contacted their plumber to inspect the pipe again (watch the above video).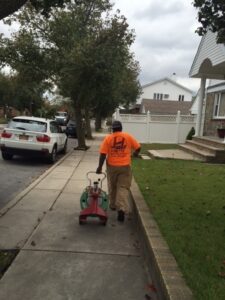 Harris first tried to clear the line with a sewer snake and continued to hit an obstruction. The video inspection showed that the pipe was only replaced from the property line and the old clay pipe on the property now had suffered from root intrusion. The roots were so heavy that they could not be removed and now had to excavate from the outside for another repair.  
The on-site crew began excavating the very next day to replace 14' of pipe on the property with new 6" cast iron pipe. The entire process was scheduled to complete in one day as long as they did not encounter any unexpected hurdles.
| | |
| --- | --- |
| Excavating begins | |
The crew had reached the 10' mark by 1pm and completed the new piping installation by 2pm.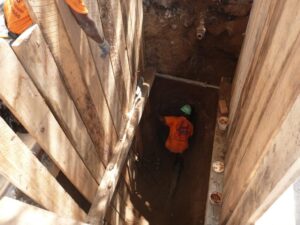 The new cast iron pipe is installed
Due to the layout of the pipe and the foundation wall, Harris had to bring the pipe through the wall to avoid the possibility of any future root intrusion.
The entire repair including the back-filling of soil on the property was completed the very same day.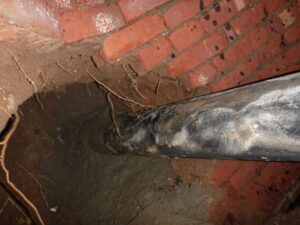 New cast iron