Harris Water began excavating in the roadway for a standard fire sprinkler main installation on Broadway, in Manhattan. The job was scheduled for one day to excavate in preparation for the DEP wet connection installation on the second day of work.
When digging on the first day, Harris became aware that there was a small leak on the city water main and slowly started to intensify. Harris contacted DEP on an emergency basis who was able to install a clamp on the city main, as a temporary solution.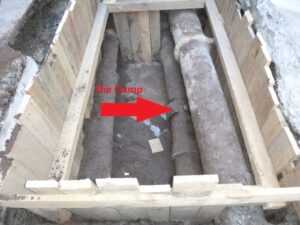 Later that night the city installed the new wet connection for the buildings sprinkler main in the exact location where the leak had sprung.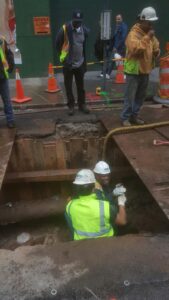 The DEP install
Unfortunately this solution did not hold and resulted in a complete failure. The city water main break ended up passing through the foundation of the building. Luckily there was a sewer trap which was used to relieve a complete flood of the basement.
The water was also filling the roadway excavation and had to be pumped out to avoid the entire excavation from flooding.
The DEP now had to replace a 9' section of the city main to avoid any future problems. The installation was completed through the night to avoid a major water disturbance for the surrounding neighbors.
Once the new pipe was installed, the new wet connection was installed. Four days later, Harris now picked up where they left off and began installing the new 6" ductile iron pipe from the wet connection, to inside the building.
The installation was completed in one day, followed by the back-fill and tampering for a secure roadway.