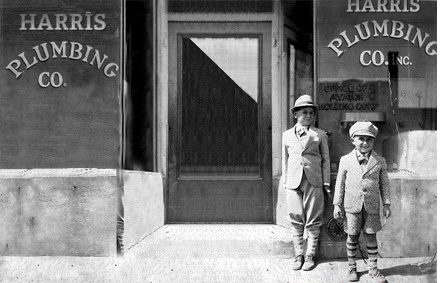 Harris Water Main & Sewer Contractors is happy to announce the issuance of the families 4th NYC Master Plumber License to our 4th generation owner/operator Brett Kogel. It all started after World War I when Abraham Harris established Harris Plumbing & Heating which at the time was primarily focused on new construction developments. When World War II began all new construction was quickly put on hold and most of the Harris' employees, including the Harris family went into the service for their country.
After the war had ended Paul Harris went back studying plumbing and like the generations who followed, Paul obtained his journeyman card which is required prior to obtaining his NYC Master Plumber License. Now that Paul had a Master Plumber License in hand the firm began to grow and expand into more commercial plumbing work, including sub surface water main and sewer installations which is a specialty plumbing trade in NYC.
In 1975 Paul's Son-in-law Steven Kogel joined the family business and quickly followed in his footsteps by obtaining his Mater Plumber License which he successfully passed the test and obtained in the early 80's.
Fast forward 102 years' form when the company was established (1918), Brett Kogel, son of Steven and Grandson of Paul is now holding one of two Master Plumber Licenses for the firm. These days obtaining a Master Plumber License is a big enough challenge within itself, there are only a select few issued on an annual basis. Our family and company is grateful to have two active licenses under one family and company. We are looking forward to another 102 years of success!