NYC NEW CONSTRUCTION PLUMBING
CONTRACTORS
Our team of NYC new construction plumbing contractors has performed house sewer, water main, and sprinkler main installations for over 100 years. We understand the importance of working on a deadline to keep your construction schedule moving forward. When you bring your project to us, you are assigned a dedicated team within our office. The team is led by the Vice President of New Construction Plumbing Services, who will oversee each project to ensure all work is completed to industry standards.

Instead of wondering how to find out if a plumber is licensed, work with Harris Water Main and Sewer—a family-owned, licensed contractor with over 10 decades of experience. You can trust our new home and building plumbing contractors to handle all your subsurface water main, sewer main or site drainage needs—from a single-family renovation to ground-up superstructure. It requires expertise and experience to stay ahead of the constant updates to the rules and regulations set by DEP, DOB, and DOT. Our NYC new construction plumbing contractors work diligently with all associated agencies to stay ahead of the curve while delivering stellar service from estimation to restoration. Your assigned team will also work on obtaining NYC DEP sign-offs upon completion of the required water main and inspections.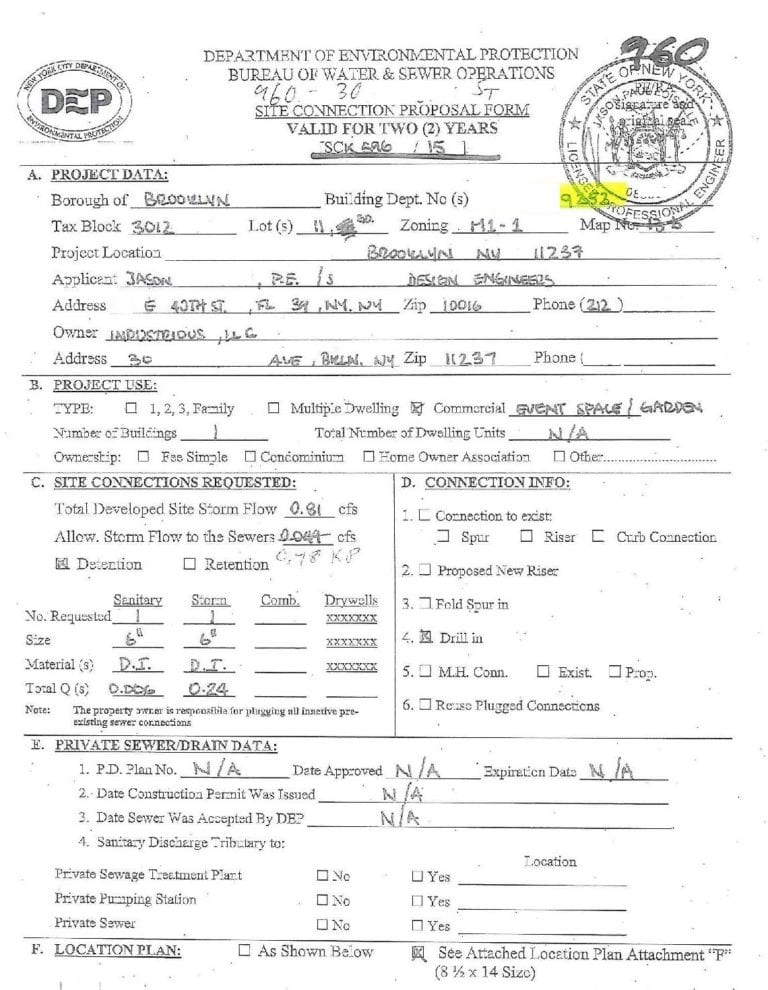 Sewer Installation & SD1&2
If your project proposes a new sewer proposes a new sewer, DEP will require an SD1&2 which your engineer will create and file for approval.  This application will advise on the size, type, and connection for the proposed sewer. In addition to the new sewer main, it will note if a storm water detention or retention system is required.  Depending on what the application proposes, different regulations will apply in order to obtain permits. Your project coordinator will walk you through this process to expedite permit approval.
Depending on your project, a new proposed water main may require the installation of an rpz & meter.  If so, your engineer will need to create and file a DEP Cross Connection Letter (Backflow Prevention Letter).  This application will advise on the size and type of service to be installed.  In addition, it will note the size and type of rpz and meter to be installed. This approval will be required to obtain permits whether you have a ground-up project, renovation or DEP is requiring the installation of an rpz.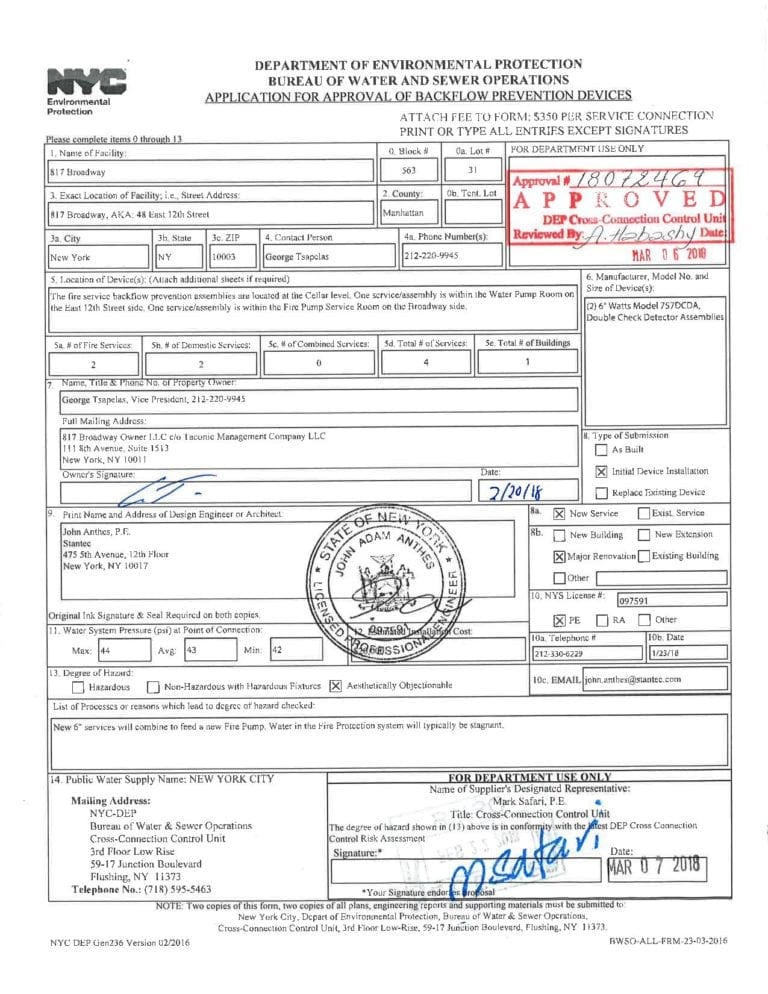 INSTALLATION OF SEWER & WATER MAIN
The installation process will begin with the installation of the proposed sewer (if proposed). The roadway, sidewalk, and property (if applicable) will be excavated in preparation to install the sewer pipe in accordance to the SD1&2. Upon piping, DEP & DOB will inspect the new service.
When the inspection is completed the excavations will be backfilled and restored unless a new water service is proposed.  If your project calls for a new domestic, fire sprinkler or combined water service, the excavations will be backfilled to the water main invert in preparation for the tap or wet connection.
After the new connection is installed, the remainder of the pipe will be installed and inspected by DEP.  Upon completion of the inspection, the excavations will be backfilled and restored.  It's important to note that these installations should only be performed by highly trained individuals. All the crew at our new construction plumbing company hold the expertise and experience to get your job done. Most importantly, our team will complete the job safely. All Harris employees are trained per the most recent codes associated with DEP, DOB, DOT and OSHA regulations.
Catch Basins, Manholes & Trench Drains
Harris has a specialized team that is highly trained in estimating and installing any of your storm water detention and or retention needs per DOB approved plan. Read more here on a recent scenario requiring a new storm water system
The new construction plumbing contractors at Harris can handle all of your sewer, water main, and site work estimation your project calls for.  Understanding DEP, DOB & DOT requirements allow us to deliver a highly efficient estimate that you can count on for your budgeting purposes.