Municipal sewer main repair and replacement in New York City is a specialty trade that requires precision, advanced equipment, and a great deal of experience. New York sewer repair does not fall within the normal scope of work for the average "plumber" either. In order to obtain the required permits for a subsurface sewer replacement, the contractor must hold an NYC Master Plumbers license, sufficient insurance coverage and a special bond with the New York City DOT.
A broken sewer line can be messy, disruptive, and even hazardous to the health of your family, customers, or employees. Avoid the broken sewer line health risks and protect your family or business today and enlist the sewer main repair and replacement services of Harris Water Main & Sewer Contractors in NYC. With over 100 years of New York sewer repair experience and its five boroughs, you can rely on our sewer line replacement company to repair or replace your sewer line in a quick, cost-effective, and efficient manner.
Important Facts to Consider
There are many reasons why you may experience problems with your sewer line. If you are experiencing problems with an unknown cause, understanding why your pipe is not functioning properly is the first step in home sewer maintenance. This can help you avoid wasting money on temporary repairs to your sewer line when a complete main sewer line replacement is more cost-effective in the long run.  There are two primary factors to consider before making a final decision.  The first factor is to determine the exact cause of the sewer problem. The most common problems are when the pipe is separated, cracked, filled with tree roots, back-pitched, or it is an old clay pipe.  The second factor is locating the area of concern. In the case of a repair, it is incredibly important to have the exact location of the sewer problem. If you currently have a clay sewer pipe, locating the problematic area is not necessary since the entire line should be replaced.

There are several other important factors to consider when weighing the different repair or replacement options. As each scenario brings its own unique circumstances, we recommend contacting a subsurface sewer contractor for a professional opinion.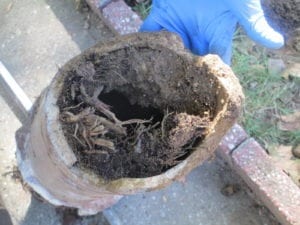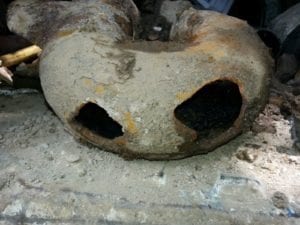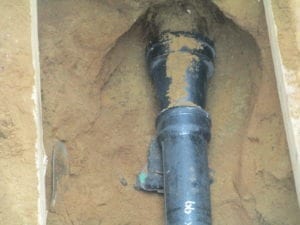 Sewer Repair and Replacement Cost
There are several factors used when estimating the cost of a sewer main repair. The primary factors used are:
The distance of the house to the city sewer
When the city roadway was most recently paved
Should I Repair or Replace My Sewer?
This is a common thought that many homeowners experience once they have identified that their sewer line is damaged.  If your property has a clay sewer line, we always advise to replace the entire sewer line with extra heavy cast iron pipe. A clay sewer line is more susceptible to experiencing a secondary issue as opposed to a cast iron sewer line. If you decide to make a repair on a section of your clay pipe, there is a possibility that you will have to repair another section of the old clay pipe in the near future. Having a sewer contractor perform multiple repairs on your clay pipe at different points in time can become quite expensive.

If you currently have cast iron sewer pipe, it may make more sense to entertain the idea of a repair as most cast-iron pipes should last you 50+ years if installed by an experienced contractor, with the proper materials.  Either way, you should always have a detailed inspection performed on your sewer line to allow for a proper assessment and the most cost-effective way to relieve your issues.

Browse our site to find out more about the services our sewer repair and replacement company provides in the greater NYC area. Call our sewer line replacement company in NY today for a free estimate on the cost of on either the main sewer line replacement or repair service for your home or business in NYC. After our repair service is complete, we are always available to provide sewer line maintenance tips.