Early Friday morning we received a frantic call from a NYC homeowner after she was issued a summons from the NYC DEP. The DEP was first called to the scene by a neighbor who had become aware of water surfacing in a roadway sinkhole. The neighbor had no intentions on causing any issues with his neighbor, and assumed that the city would resolve any issue in the roadway.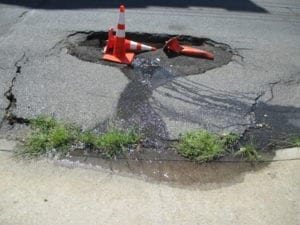 Water main leak in roadway
As the water main leak continued to get worst, the DEP started to check all of the neighboring houses with a special listening device. It was one particular house who had a hissing sound on their water line, when it was supposed to be silent. This is usually a strong indication that the water main is leaking. The owner was issued a notice to repair the pipe within three days or further actions would take place.
| | |
| --- | --- |
| Pumping water | Pumping water |
Because the existing water line was made of lead, it was required to replace the entire pipe with a new copper water line. It is no longer legal to repair any type of lead or galvanized pipe. Harris Water began digging the roadway the very next day and prepared to complete the new water line installation in one day.
| | |
| --- | --- |
| Digging for tunnels | The new copper pipe is installed |
After opening the roadway, the onsite crew began to blow tunnels from the roadway to inside the house. Once all of the tunnels were completed they could now pull the copper pipe through the tunnels, and at this point connect to the tap connection on the city main, and inside the house with a new control valve.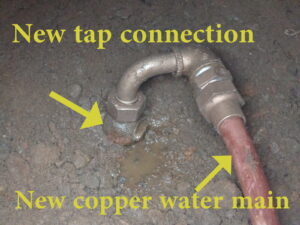 Harris Water was able to resolve the water line leak and remove the three day notice within six hours.