This week in Manhattan Harris Water Main & Sewer Contractors repaired and replaced more than ten water lines. The water main repairs were required for several different reasons. Some of the water pipes were cracked, leaking in the street or sidewalk, and had to be replaced on an emergency basis. Other water main replacements were required due to home renovations which required larger pipes, or an addition of a new sprinkler main.
The East Village Emergency Repair
Harris was called on site early Tuesday morning after the building became aware of a leaking water main while another utility contractor was working in the roadway. The utility contractor contacted DEP to determine the source of the water leaking into their excavation. It was determined that a thirty unit building had been suffering from a leak which had to be repaired on an emergency basis. DEP issued the building a 3 day notice to repair the water line, Harris began excavating the very next morning.
The water main leak
Upon excavating Harris encountered a peculiar situation, the existing 2" water line had been connected to the city main with two different undersized "tap connections". DEP allows for one tap connection only per water main.
Harris now had to replace the entire water line, in addition, the two older tap connections had to be plugged and install a new 1 ½"connection was to be installed.
| | | |
| --- | --- | --- |
| The old tap connections | The new tap connection | |
The entire process was completed in two days after Harris scheduled a tap installation with DEP for the very next day.
Water Main Upgrade Bedford Hotel
The Bedford Hotel in Midtown Manhattan was renovating the building, as part of the renovation, the DOB required the building to upgrade the size of their sprinkler main. Harris was scheduled to perform the work over the weekend as the DOT issued restricted working hours for weekends only. Harris began excavating the first weekend in preparation for the new 6" sprinkler main installation and DEP inspections.
| | | |
| --- | --- | --- |
| Harris begins digging | New pipe is installed | |
The new pipe was installed and inspected within two weekends.
Pax Wholesome Foods emergency water main repair
Harris was called to the site on E 42 St after the internal plumber had become of clean water leaking at the foundation wall. Harris was quick to access and determine that the water main was broken under the sidewalk, and traveling back into the building.
The water main replacement began within a few hours after the leak was confirmed. The roadway was opened after obtaining all required DOT permits and the on-site crew began digging.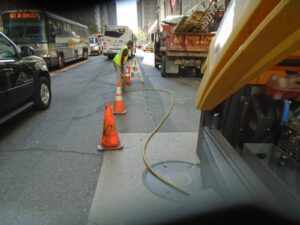 Harris begins digging
The old lead water line was replaced with a new copper water line which will last the building a minimum of 75 more years.
| | |
| --- | --- |
| The old lead pipe | The new copper pipe |