What camera is used for inspections?
A camera used to analyze your sewer line is exactly like a camera you would use when recording a relative's birthday party. The only difference is that a sewer camera is built to withstand water, to push through obstructions, and provide a real time picture of the inside of your sewer line from a separate monitor.
When is a camera inspection recommended?
If you've experienced multiple backups in a short period of time, it's a good idea to obtain a camera inspection. It's reasonable to think a sewer line may backup once a year at most. if you are experiencing multiple backups the sewer line is not functioning as it should and must be analyzed.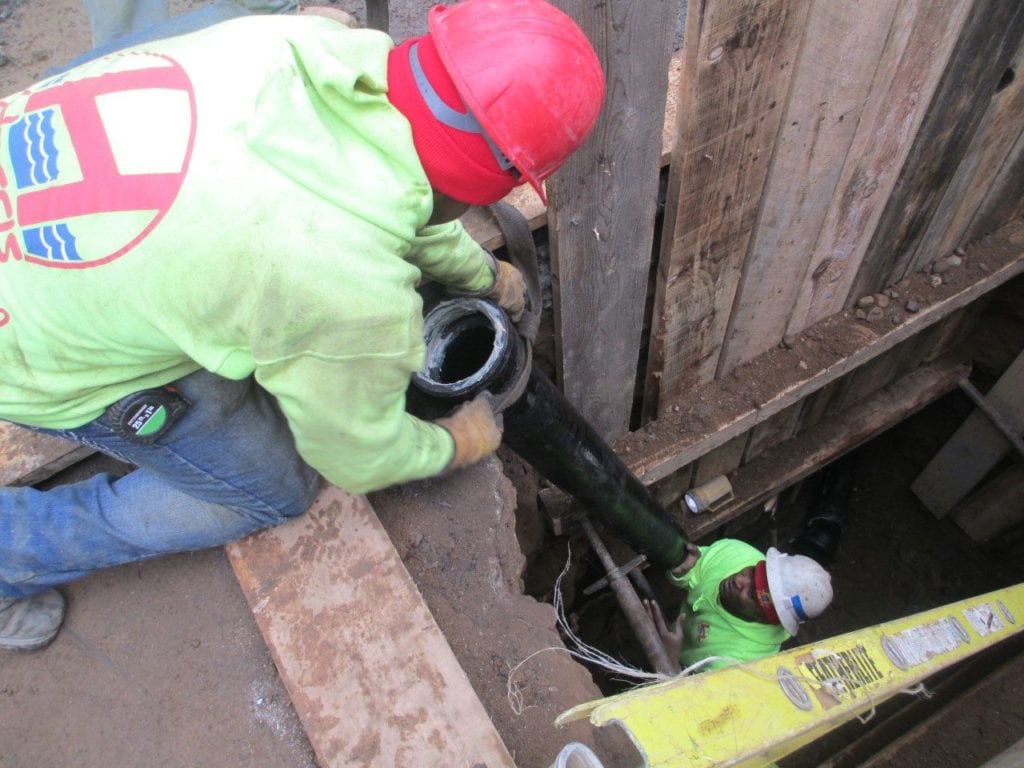 What can a camera inspection find?
The camera is the best tool to pick up on any debris sitting in the sewer line and assist in determining if it can be cleared with a sewer snake or water jet. A clear picture will assist in determining if the obstruction can be removed or if it requires a sewer line replacement company—such as our team at Harris Water Main and Sewer—to complete excavation and repair work.
It's common for the camera inspection to pick up on heavy tree roots that have been growing in the sewer line for decades. It's also possible that the drain cleaner had been clearing the pipe for many years yet not removing the actual roots. At some point the roots are not able to be removed and sewage will continue to back up until a replacement is completed.
In a case like this, your sewer line replacement company will assist you with deciding if a full line replacement is required, or if you can save a few dollars and complete a partial repair to get your sewer line back up and running.
A camera inspection is also good for locating the sewer line and the direction in which it runs. Most homeowners are not present at the time the sewer lines are installed at their home, and may not know exactly where the pipe is traveling below ground. This is useful in the case of planting a new tree or installing a pool and want to avoid damage to your sewer.
A camera inspection will also assist in determining the material makeup of your pipe. Many older buildings were built with a clay sewer line and not cast iron which is currently used. It's always a good idea to understand which material you have and entertain replacing clay with cast iron before you have a problem.
The camera is also beneficial if you want to see exactly where your sewer line is connected. In NYC, all buildings and houses are supposed to be connected to the city sewer line—however, there are cases that differ.
You may be experiencing a sewer backup if you are connected to your neighbor's sewer line and they have a break, you are connected to a private sewer line with multiple other houses, or if you are not connected to a sewer line at all and the sewage is dumping into a tank.
If your camera has a locator on it, you can trace the direction of the sewer pipe from above ground with a separate locating device that will pick up on the camera head inside the pipe.
What can't a sewer camera do?
If your sewer line has small cracks the sewer line may not be able to clearly pickup on each and every small crack which may be misleading if you are having sewer line backups as a result.
The camera may also experience issues if you have too much sewage and water sitting in the pipe. Just like a regular camera the video will display foggy water and nothing more.
If you are attempting to locate your sewer line from above ground and there are utilities in the way, or if the sewer line is extra deep, the camera locator may not be able to trace the pipe resulting in an exploratory excavation to locate.
If any questions about a sewer camera or constant backups of your sewer line, it's important to call a licensed master plumber to assist in answering all of your questions.