On Tuesday morning the buildings super at 200 Worth St. in Manhattan, contacted DEP (Department of Environmental Protection) after becoming aware of a small stream of water entering through the buildings foundation wall. The DEP showed up within a few hours and issued a Three-Day Notice for the building to repair the sprinkler line.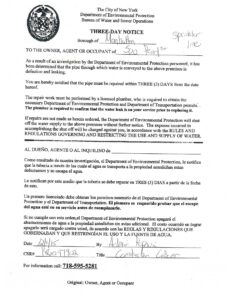 Due to the heavy volume of traffic, high profile court cases and constant TV cameras filming, the building decided to have Harris Water Main perform the repair work over the weekend. They wanted to avoid disturbing the normal flow of business as much as possible. Little did they know that the pipes "stream of water" was going to turn into a heavy water main break within 24 hrs. Harris was called to the site the very next morning to start replacing the sprinkler main on an emergency basis.
| | |
| --- | --- |
| Digging for pipe repair | Digging continues |
Harris began excavating on the property and found the broken pipe within the first day of digging. The on-site crew also became aware that the pipe did not exit straight out to the street as most pipes do. Both the sprinkler and domestic water mains took a sharp left turn within a few feet of exiting the foundation wall. The pipes traveled 70' across the front of the building before exiting straight to the city main. Harris now had four times as much work as anticipated, and still had to complete on an emergency basis.
Harris started installing the new pipe over the first night of working and obtained DEP inspections on a portion of the new pipe. While excavating for the sprinkler it had become apparent that the domestic water main was in poor condition as well and made sense to replace both of the pipes at the same time. A building of such importance could not afford to begin excavating on the property anytime in the near future.
| | |
| --- | --- |
| The old pipe | New pipe is installed |
It was also very important for Harris to leave a 5' walkway at the front of the building to avoid foot traffic at the main entrance of the building. This required Harris making an underground tunnel for the piping installation.
| | |
| --- | --- |
| The tunnel | Water main tunnel |
The entire job was completed within four days which required Harris to have an installation crew on site at all times. The crew had to work through the night and continue to work until the entire job was completed, including all DEP inspections.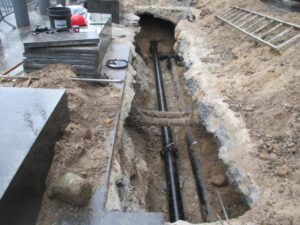 ---