A Homeowner on Eastern Parkway in Brooklyn had been experiencing sewer backups for several months. He had been participating in the NYC sewer line insurance and had them cleaning the sewer line every other week. After the most recent cleaning, the insurance company told him that the pipe was broken on the sidewalk and now had to be repaired. He was now told to expect a call from the main office including further details. To his surprise, the insurance company told him that the sewer line break was "pre-existing" and was excluded from his service agreement. After several weeks of back and forth, the owner had to make a quick decision while his sewer line was nonfunctional and could no longer use his bathrooms. The owner had no choice but to hire a private company as his tenants were getting restless, he would now have to deal with the insurance company at a later date.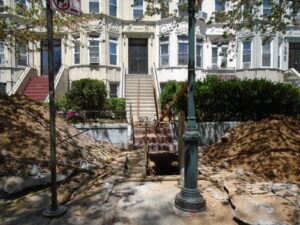 Sidewalk sewer repair
The sidewalk sewer excavation began the very next day, after 4 hours of digging the on-site crew reached the existing clay sewer line and quickly became aware that the pipe was broken in several locations. Not only was his insurance claim denied, he was also provided with inaccurate information. This is why repairing a sewer line is always a risk, you never know what the remaining sections of pipe looks like, and may be hit with a very expensive surprise once the pipe is exposed.
The sewer line replacement continued, the on-site crew now began digging underneath his stoop so they could replace his pipe from inside the house, all the way out to the street.
| | |
| --- | --- |
| Excavating Eastern Parkway | Installing cast iron pipe |
After two long days of work, the entire clay pipe was replaced with new cast iron pipe and inspected by the NYC DEP. The excavations were now back-filled with soil and compacted to ensure no future problems with the sewer line or roadway.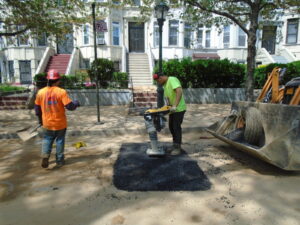 Compacting roadway
Harris Water and sewer took pictures and documented the entire process as supporting documentation for the owner as he now had to combat the insurance company and get his money back.
Lesson learned
It is important to read the fine print in all agreements and have an experienced professional review all of the language to avoid any surprises. It is also important to weigh the pros and cons of attempting to repair your sewer line, while understand the potential for additional cost.