Recently in Queens, the homeowner of a single family residence contacted DEP as she started to notice a small stream of water coming up in front of her house. The homeowner was certain that the water was not coming from her pipe; the house was only 6 years old. After a two day investigation, DEP checked the neighboring houses and determined that it was her pipe that was leaking.
The owner decided to call a licensed and bonded plumber as DEP suggested. She called two companies, one which told her that the entire pipe had to be replaced and the other who had another idea. Because the pipe was considered new, Harris water suggested that we first perform an exploratory excavation at the curb valve. It was very possible that the leak could be repaired at the connection to the copper pipe; this would avoid any additional work while keeping cost to a minimum.
Harris Water first obtained a parks department permit as required. The excavation took place within a few feet of a city tree which has to be monitored by a Parks Department Certified Arborist. After ninety minutes of digging, Harris reached the curb valve to quickly realize that there was a hole in the valve itself.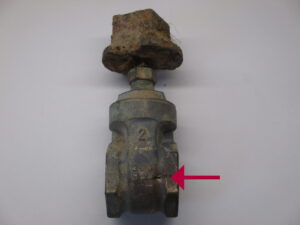 Source of the leak
It seemed that a large rocked may have punctured the curb valve when the hole was originally back-filled. There is no way to be 100 % certain however; this is the professional opinion of the foremen on site.
The curb valve now had to be replaced in order to stop the leaking water. Harris now had to turn off the water in the roadway where the copper pipe meets the city pipe; this is known as the tap connection. The tap connection controls the water from the city main, and can be opened or closed by opening the roadway.
The roadway was opened, the tap was turned off and the new curb valve was installed in time for the DEP inspection.
| | |
| --- | --- |
| Water main & Tap | New curb Valve |
Note- A DEP inspection is always required if the water main is feeding a sprinkler system, or if the pipe is 3 inches or larger. In this case the pipe was a 2 inch copper water main which was feeding both the domestic and sprinkler system in the house.
A special soil compaction test and DOT inspection was now scheduled for 2 hours from the point of the DEP inspection. The roadway required the special testing only because it was resurfaced within the previous five years. The law states that any roadway resurfaced within the previous five years requires a soil compaction test. The test measures density and moisture of the soil that is being placed back in the street, with the goal of protecting the integrity of the roadway.
---