If your water main or sewer is malfunctioning, it may result in a basement full of sewage or water. There are a few immediate concerns which should be investigated and addressed immediately. The first concern is if the sewage or water is ruining your carpets or furniture. If you have enough time to get ahead of any major damage, it's suggested to lift any rugs and move any furniture into a safe area, possibly a portion of the basement on the opposite side of the house. It is also suggested to try and stack as much as you can as there is less of a chance for your valuables to get ruined if they are several feet off the floor. This is not the case in all scenarios. There are severe cases where the basement or first floor will flood to the ceiling or even the floor above.
The next immediate concern is the infrastructure of your home—including sheetrock and insulation. Once the water saturates into the walls of your home, there is a chance mold will grow. If mold begins to form in your home, it brings on several additional health concerns, starting with allergies, infections, and possible respiratory problems. If you have young children in the house and have any reason to believe that there may be mold in the house, it's highly recommended to remove all children from the house until it is tested and all mold is removed.
What happens if a wet basement is ignored?
Think twice if you decide to ignore what is suspected to be water damage because you feel it's minimal and really don't want to deal with a headache. Even a small amount of water damage can slowly penetrate the walls and floors in your home. This may result in deterioration, a weakened foundation and a possible collapse if it's ignored for long enough.
What to do if a broken water main is causing water damage?
First, you want to check and see if you have a curb valve on the outside of your house, which can be used to stop the water entering your home from the city main. If the water leak is on the house side of the curb valve, then you are in luck and you have now avoided the potential for additional water damage. It is important to understand that a curb valve must be utilized by a professional sewer and water contractor who has experience working on curb valves. If the pipe in your home is old and looks corroded, there is a good chance that the curb valve does not work, and it should not be toyed with.
If you do not have a curb valve, it's suggested to call your sewer and water contractor who must now open the roadway on an emergency basis and close the connection on the city main to stop the flood of water into your home.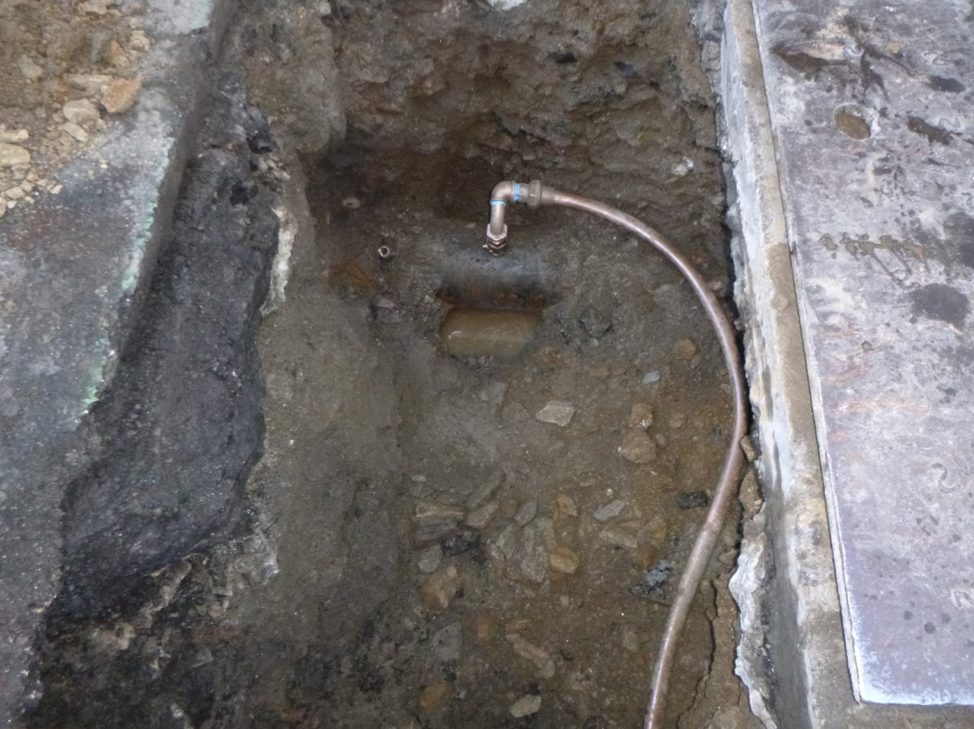 At this stage you, will have to make the financial decision on whether it makes sense to go ahead and replace the entire water line from the street to the house, or if a pipe repair is best for your current needs. A few factors to consider during your decision includes the age, material, and current water pressure from the pipe. If you feel that a water main replacement may be required in the coming years, now may be your chance to get it over with and avoid opening the roadway again in the future—as well as avoiding additional costs.
There are also creative temporary fix options, which may not resolve the actual problem, but it will mitigate the water damage until the leaking pipe is repaired. Some homeowners will build contraptions using plastic, buckets, and a water pump just to avoid the water damage. Remember, such contraptions are temporary and can cause more harm that good if left for too long.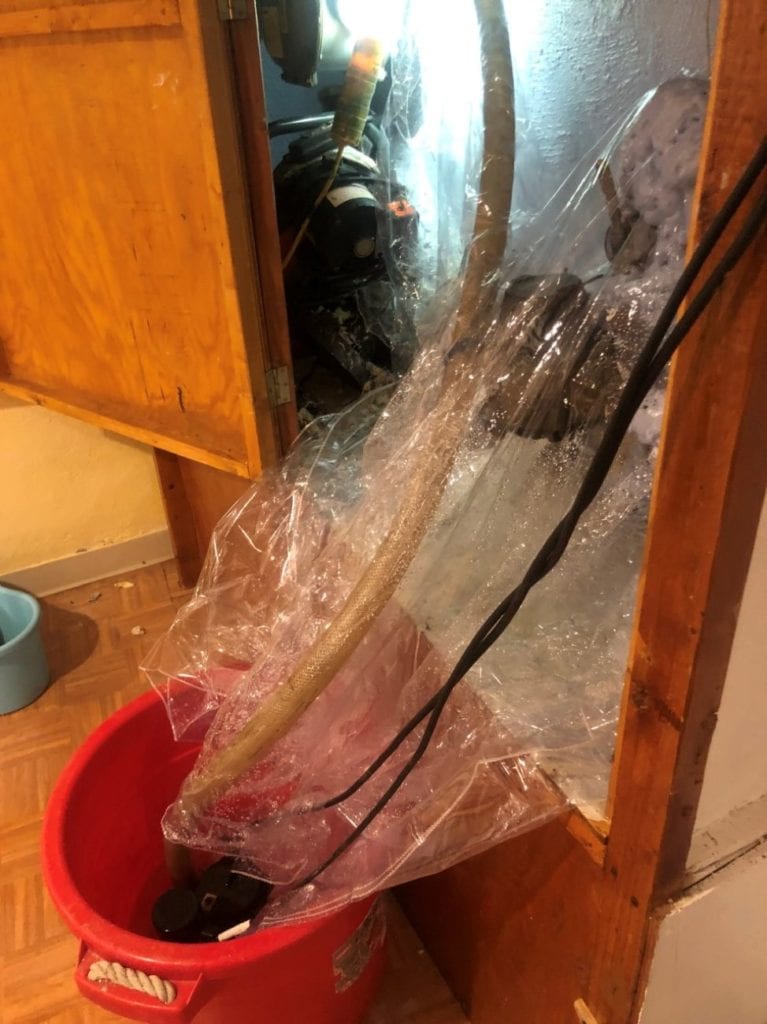 What to do if a faulty sewer is causing water damage?
The most hopeful scenario is that your sewer line is simply backed-up due to a clogged pipe. In this case, it's suggested to call your sewer cleaner in hopes that the sewer pipe is cleared with a standard snake.
If the issue persists you will then have to use a water jet or a sewer camera to assist in determining what is causing the sewage backup. The camera may show that the pipe is cracked, broken, or has been infested with root intrusion. In these cases, you will most likely need a professional plumber to excavate and repair the sewer pipe for it to functioning again.
There are several variables to consider when assessing the severity of the sewer problem and the permanent solution, it's important to avoid a partial fixes as they can prolongate or create a more difficult scenario for repairs.
What to do if your neighbor's pipes are causing your water damage
This tends to be a sensitive subject as most property owners do not want to assume responsibility for a broken pipe that is damaging someone else's property. As a surprise to most, this is a common occurrence that is dealt with on a daily basis. One example would be if your neighbor's water main is broken under the sidewalk, and the leak is so heavy that it is causing water damage in your basement.
It's always suggested to contact the city who will serve as a neutral party who will approach your neighbor face to face. The city is responsible to diagnosing and determining where the water is coming from. If the water damage is coming from a neighbor, your neighbor will be issued a city violation requiring them fix the broken pipe in a timely fashion.
In this case, it's also suggested to try and locate the sewer trap on the inside of your house. If the trap is in the basement floor, you should remove the caps from the trap and try to divert all of the leaking water or sewage out of your house through the sewer trap.
Long term effects
If you are unsure of the details specific to your house, but you have a suspicion that you are victim of some form of water damage, contact a licensed water main or sewer contractor to take the time and guide you to a resolution.