Should You Repair or Replace Water Main NYC?
There are several factors that should be taken into consideration when thinking about replacing a water main in NYC.  The 3 main factors are:
 The age of the water main
 The material that the main is made of
The repair history on the water line
It takes a high level of knowledge and skill to research and conclude upon what the best decision is for each scenario.  The average "plumber" may not have the skill set or experience to provide the necessary information needed to make an educated decision.  You should always consult with a licensed water main and sewer contractor who specializes in replacing water and sewer lines on the outside of the building.
Have you had a previous repairs on a water line – Does a 2nd repair make sense?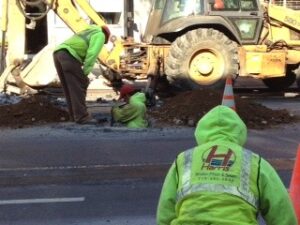 The average homeowner's experiences one water main replacement in their lifetime with the cost factor leading the decision making process in many cases.  The cost of repairing a water main is usually less than replacing the entire water line but the future must be taken into consideration.  If you repair a section of pipe, this still leaves you with a large section of old piping that may have to be replaced in the future.  Most of the cost associated with a water main repair includes the permits, restoration, labor and material which are all involved in the work regardless of a repair or replacement.
The cost of making two water main repairs in a lifetime is much greater than the cost of replacing the entire pipe all at one time.  It usually makes sense for a homeowner to replace the entire water line instead of risking the possibility of making a second costly repair in most cases.  There are scenarios when a repair may make sense on a newer copper or ductile iron water line.
How old is your water main?
If you water line is anywhere near the average life span of 50 years, there should be no option to repair the existing line.   There is great chance that you will have to repair another section of the water line in the near future as altering or moving the service line usually results in another leak or break.
If you water line is in the range of 25-35 years of age you should factor your future plans with the house to assist in making an educated decision:
Are you planning on selling the house in the near future or are you planning on passing it on to your children?
Do you future plans include adding bathrooms and/or kitchens that may require a larger water main?
The potential of rising cost factors should be taken into consideration as well.  If your water main replacement cost $3,500 today, will it cost you $4,500 in 5 years? The overall cost of replacing a water main has increased over the previous 5 years due to the increase in material cost, DOT restoration requirements etc.
What is your existing main made of?
If you currently have a lead or galvanized water main it is 100% illegal to make a repair as per NYC DEP plumbing code.  Both of these materials corrode and become fragile over time making it a less than plausible decision.  The corrosion on the inside of the pipe will decrease the water flow over time, potentially impacting the volume and pressure of water entering your home.
It is legal to make a repair on a copper, ductile iron and corporation pipe in NYC and it may make sense in some scenarios however, you should consider all of the factors mentioned in this article to assist in making a wise plumbing decision.
---
At Harris Water Main & Sewer Contractors we pride ourselves in being able to help homeowners in making an educated decision specific to the details of each scenario. Please feel free to contact us at 718-495-3600 with any questions regarding our services.