The first sign to a broken water line break is a soft rumbling noise or vibration you will hear on you water main, most homeowners will first become aware of this noise if they are in the basement or at night when there is not too much noise in the house.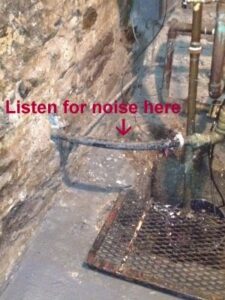 A special listening device can be placed against the water main pipe to assist in detecting the rumbling noise or vibration.
The 2nd most common sign in identifying a water line break is water bubbling up from the ground in the roadway or on the sidewalk.  If this is occurring at your home, you do not have to worry about an increase in your water bill as the leak is before the meter and will not register.
Low water pressure is a possible sign that your water main is leaking however, a broken water main may not be the cause.  You may be experiencing low water pressure due to old and corroded pipes or your pipe being hooked up to an undersized tap connection.
---
If you do feel that you have a water main leak, you should always call 311(NYC DEP) and be clear that you think you have a water main leak.  Make sure to reiterate and tell them that it is your domestic water service, not your sewer line.
There is absolutely no charge or fine for the DEP to come to your house and investigate the source of the leak.
You should also call a NYC Licensed Plumber to your home to investigate and provide a second opinion on the source of the leak. Most NYC Licensed Plumbers make free site visits and provide estimates with no obligation.