A property owner in Manhattan called 311 (NYC DEP) after noticing that her sidewalk had several damp spots for several days in a row.  At first they paid no attention to the random water spots as it had been raining for a few days, they decided to further investigate as the damp areas started to increase over time.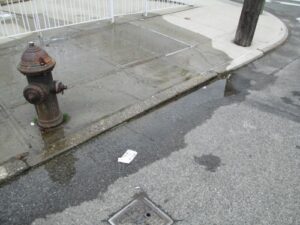 Upon the DEP arrival, they began checking each of the surrounding neighbor's water lines with a listening device that would assist in determining where the water was coming from.  If the tenants in the building were not using the toilets, sinks, showers etc., the water main should be completely silent.   The DEP field crew quickly determined that the leak was coming from an old lead water line of the building where the water leak was coming up on the sidewalk.  The building was completely empty, nobody was utilizing any water in the building and the water line had a loud vibrating noise which led to the 3 day notice being issued.
Harris Water Main & Sewer Contractors was called to the building for a second opinion and agreed with the assessment of the leak, which would later be confirmed upon excavation of the roadway.  The homeowner had no choice but to replace the entire water main as it was made of lead and it is illegal to perform any type of repair on a water line consisting of lead. The water main installation crew was excavating the roadway by 9am the next morning after obtaining an emergency street opening permit from DOT (Department of Transportation). They first closed the buildings tap connection to confirm the source of the leak (Tap connection – valve controlling the water supply from the city main) – As soon as the tap was closed, the leak stopped.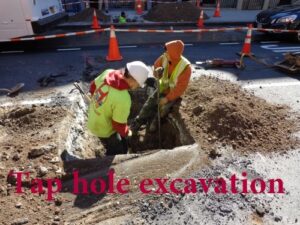 The crew now began excavating three more holes to prepare for the new copper water main installation.  They had to hand dig 4.5' below ground level to prepare the tunnels using compressed air.  As expected, the tunneling process took a while longer than the typical Queens or Brooklyn installation due to the amount of debris and rocks located in the roadway.  The new copper water main was being installed by 3pm, followed by backfilling of the holes and cleanup of the jobsite.
The entire water line installation was completed within 24 hrs, this included everything from the pipe installation to the restoration of the concrete sidewalk and street.
Harris Water Main was able to provide emergency water line service avoiding any loss of water pressure to the building, fines or additional damage to the property owners and a potentially dangerous situation for the surrounding neighbors.