Residents of a 12 story building in Downtown Brooklyn had a tough time getting ready for work on Tuesday morning after waking up with no water pressure.  A few damp spots had become apparent on the surrounding roadway yet nothing was thought of it as NYC had been experiencing wet weather conditions over the prior couple of weeks.  The NYC DEP was called to the scene when the building super noticed a steady stream of water coming out of the curb, it was quickly determined that the 4" domestic water main had a break.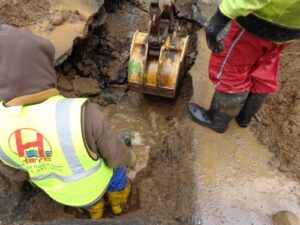 Harris Water arrived on the scene within hours when they found a large increase in water coming out of the ground, the water was now coming out of the ground in several locations and  had was much worst than earlier that morning.  The Harris water crew began excavation in the roadway as they first had to close the wet connection which would stop the water coming from the city water line to the buildings leaking water line.  The water continued at such a rapid pace that the onsite crew was not able to make much progress when digging for the wet connection; they had no choice but to call DEP for a "shut-down" – DEP had to close the water main for the entire block.  The DEP arrived onsite within 20 minutes and began closing the city water main, after 10 minutes they had a partial shut-down which was enough for the Harris on-site crew to reach the buildings wet connection and turn the water off.
The onsite crew did not expect closing the wet connection, which is usually a routine procedure, to take as long as it did.  They were now well into the afternoon and prepared to work into the night as the building had to have the water restored on an emergency basis.  The onsite crew now began trenching the roadway and sidewalk to remove the existing 4" galvanized water line and worked for the next five hours to install the new 4" ductile iron water line.  The building residents were happy as they woke up on Wednesday morning with a new water main and more than sufficient water pressure to prepare for their day.  The DOT required compaction testing for a "protected street" was completed later that morning along with paving of the roadway and the sidewalk restoration.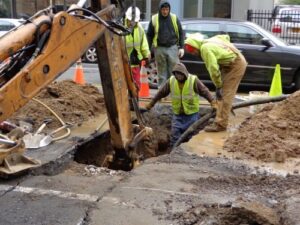 Harris Water Main & Sewer Contractors was able to respond to an emergency water line replacement avoiding any major inconveniences for the building tenants.  The water main installation crew worked almost 24 hours straight to make sure the building had water fully restored and to avoid a potentially dangerous situation in Downtown Brooklyn.