Recently a NYC homeowner called Harris Water Main & Sewer after experiencing a sewer backup in her basement for the third time over the previous six months.  Previously she had her local plumber clear the sewer line with a sewer cleaning machine which was no longer doing the job.
Harris Water arrived at the building after being referred by a neighboring building that had their sewer line successfully cleared six months earlier.  The technician first attempted to clear the line with a 300 Spartan sewer cleaning machine, after thirty minutes of utilizing the Spartan; he was having no luck due to large roots in the sewer pipe.  A Rigid water jet machine was now used to clear the roots from the sewer line but the sewage from the house was still not flowing into the city sewer, there was a large obstruction in the pipe.  The technician had no choice but to perform a camera inspection to determine the exact issue with the pipe, the camera could not get past 13' out from the trap where the camera identified a separation in the pipe.   Not only was the homeowner suffering from a sewer line infested with roots, the sewage was seeping out of the pipe approximately 15' from the city sewer and creating an undermining condition in front yard.  The homeowner was aware of a sinkhole starting to form over time but never thought it was due to a sewer line break.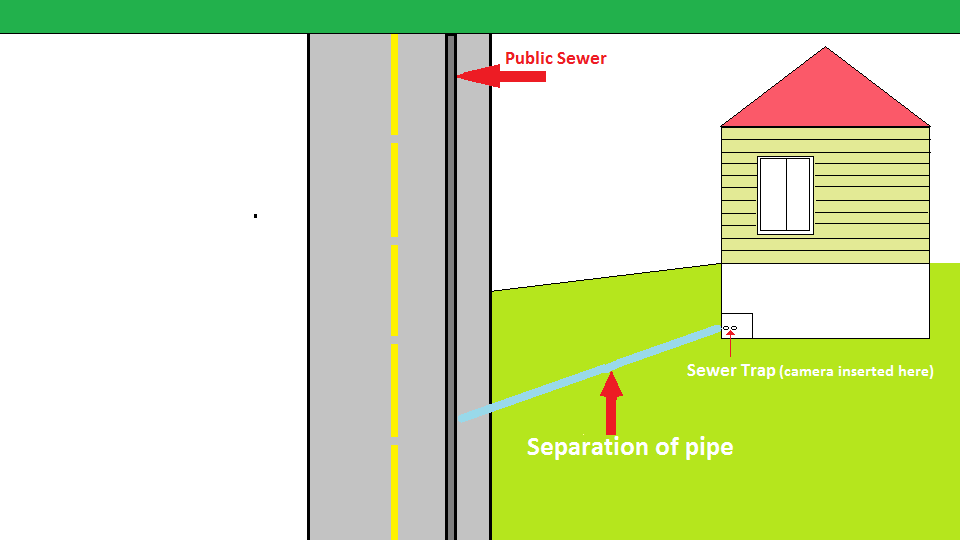 Harris obtained all of the necessary permits to begin excavating and performed a repair on the section of pipe that was separated.  The sewer pipe was located 6' below ground level, this required shoring in the hole to avoid a potentially dangerous situation as well as complying with DEP requirements.  Harris removed approximately 10' of the existing pipe and installed new 6" extra heavy cast iron pipe before backfilling the hole.  Due to the sewage seeping into the surrounding soil for an extended period of time, a good portion of the earth was completely undermined and had washed away.  The hole was filled with top soil and compacted to avoid any future sinkholes.
Now that the initial problem was resolved, Harris was able to utilize a water jet on the remaining piping and remove the additional roots that may have caused a backup in the near future.
Harris Water Main and Sewer Contractors was able to help a NYC homeowner in an emergency situation, she had received several quotes stating that she had no option but to replace the entire sewer line which she was not able to afford.  Harris Water suggested a more cost effective option in replacing a small section of the pipe relieving the primary obstruction. At this point Harris cleared the remainder of the pipe from all roots and grease with a water jet machine. This option may not be viable in all scenarios however; it did work for this NYC homeowner due to the condition of the existing pipe.