The Department of Buildings continues to update the code for fire sprinkler systems in residential occupancies throughout NYC.  The updated code is requiring new construction, renovations and two and three family homes to install a sprinkler system.    Fire Sprinkler mains are viewed a lifesaver, which is the exact reason why we are seeing stronger regulations more than ever.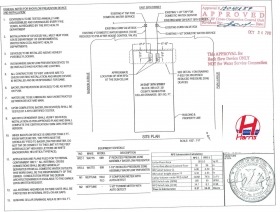 As per the updated code, Harris Water was recently hired to install a new fire sprinkler main for the famous Meatball Shop on 2nd Ave in Manhattan.  Harris first had to obtain the DOB approved plans and approval for the backflow device from the restaurants engineer.  At this point Harris started filing for the DEP water permits and DOT highway permits before the installation could take place.  This portion of the process may be subject to a request for updates to the plans by DEP.  In this case the plumber works with the engineer or architect on the DEP requested revisions before re-submitting for DEP approval.
One week later, Harris was on location and began excavating for the installation of a new 3 inch ductile iron sprinkler main.   The city water main was located on the other side of 2nd Ave which is known as a "long water" installation in the plumbing world.  Harris spent the first two days excavating 60 feet across the street when the crew encountered a large amount of utilities to work around in the roadway.  The utilities call for a challenging installation process;  extreme expertise and experience to complete the install under all DEP requirements.  Harris had to use more fittings than normal to offset the new pipe around the existing utilities.
The city water main was now prepared for the installation of a new wet tap connection which was scheduled with DEP for later in the day.  Once the wet tap was installed the new pipe was installed up to the curb along with a successful DEP inspection.
Harris now installed a new curb valve on the sidewalk. A 15 foot section of pipe was now installed form the curb valve to inside the foundation wall of the building, where the new OS&Y valve is installed.
***A curb valve and OS&Y valve are always required under DEP code for any pipe three inches and over, as well as any pipe feeding a buildings sprinkler system.
The fourth and final day of the installation was completed by 5 PM.  At this time the DEP passed the final inspection for 65 feet of new 3" ductile iron pipe.  The roadway and sidewalk were both restored one day later.  The new Meatball Shop was now open for business!
---
Contact Harris Water Main & Sewer Contractors for a free estimate or with any general questions you may have at 718-495-3600