Water main leaks on galvanized or lead pipes are common in New York's five boroughs.  A restaurant on E 46 St. in Manhattan suffered from a water main leak that was coming through the wall of their basement and making its way to the kitchen.  Like most property owners, this restaurant owner was unaware of where the water was coming from and decided to call 311 for the NYC DEP to make an onsite visit and determine the source of the leak.
After 20 minutes the NYC DEP field crew was able to locate the leak, they performed a noise test on the restaurants water main's as well as the surrounding neighbors.  The restaurant owner was issued a 3 day notice; the owner was less worried about the time frame he had to resolve the leak and more concerned about what one more day of this leak would do to his kitchen.
After making several calls to different water main and sewer companies, only one made an onsite visit confirming the leak was on his water main. The owner had received several quotes over the phone from other companies, Harris was not only the most prompt but they were the best priced company as well.
The Harris water main installation crew arrived on E 46 St, in Manhattan on an emergency basis and started excavating the roadway in order for the water main replacement to be performed in ample time.  There was no time to waste as the water leak was getting more severe, creating a potentially expensive and dangerous situation for the restaurant owners and his employees.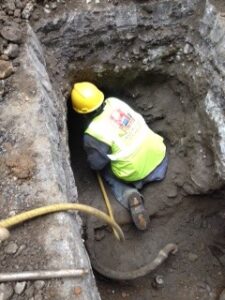 The onsite crew worked on excavating the roadway for 90 minutes when they located the water main tap and shut off the water coming from the city water main.  The leak in the basement had now stopped which is a 100% confirmation that the leak was coming from the restaurant owner's water main and more important, prevented any potential damage to any utilities or machinery in the basement kitchen.
Harris Water Main & Sewer Contractors was able to complete the entire water main installation within one day.  After speaking with the owner upon completion he shared "I did not think it was physically possible to do all this work in one day",  Harris Water Main & Sewer Contractors completes another very routine water main installation in Manhattan.
Harris takes pride in being responsive and providing dependable service to all of Brooklyn, Queens, Manhattan and the Bronx.  We strive in continuing to be the most trusted NYC water main and Sewer Company for over 90 years.  Harris Water provides free and non committal on site estimates for all of your sewer and water main emergencies.