When installing a new water main or sewer line there is always the possibility of encountering unexpected conditions below ground level.  When excavating the ground a contractor may face utilities, ground water or large rock that may change the scope of work for the current day and the entire project in many cases.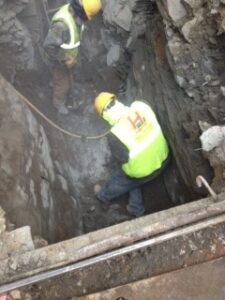 Harris Water Main & Sewer Contractors began excavation for the installation of a new sewer line in the Bronx when they encountered large rock as they reached 4' below ground level.  They were 3 hours into the excavation process when they encountered what could be a timely setback, the density of the rock called for specialty equipment to overcome this unexpected hurdle.
Due to over 90 years' experience, Harris is stocked with equipment for any type of unforeseen circumstance; the equipment was delivered to the jobsite within 45 minutes.  In this case it was necessary to use a rock drill to make holes in the rock followed by the use of a hydraulic rock splitter to break the rock into pieces which would be removed by a backhoe.  The onsite crew continued working diligently to avoid any major setbacks and keep the completion of the project on schedule.  The additional rock breaking and removing only ended up setting the crew back for a total of 2 days which the homeowner was very happy about, it very easily could have taken weeks pending the amount and density of the rock.
The remainder of the job went according to plan; the new cast iron piping was installed followed by DEP inspections and backfill of soil. The Harris sewer crew was able to respond to unexpected conditions avoiding any major financial setbacks to the homeowner while completing the new sewer line installation in timely fashion